A guest contribution by Ludwig Weh
So it was a blast, sonic fiction through the speakers of the virtually best sound system so and so far around the Alps (today I learned it features the same tech components as in Hamburg City's Elbphilharmonie): Oohe – Nobody can beat the Mama Africa! (Jain, "Makeba")
Just as the conference theme referred to Makeba's voice representing the oppressed and commodified, dis-abled, marginalized, exploited and colonized: The conference By Design or by Disaster 2022 gave those caring for a better world two days packed with reflection, revelation and refuge. Much needed rest had to be sought afterwards.
Before getting deeper into it, it may be noted that the site of former military barracks left behind by former military occupiers provided the conference with a pulsating BASIS to experience the hands-and-feet-on transformative potential of creative heads crisscrossing creative boundaries; it also provided a subtle yet ever-present reminder of the ongoing war in Ukraine, where military aggressors are violating any sense of human values or social design.
Yet various speakers alerted their audience that also pacified societies can be far from peaceful. Binaries, biases, normativity, inequalities, abuse, exclusion, stigma, discrimination, among others are raging among us as we speak. Heavy stuff to take on for eco-social designers of the future and their fellows from related disciplines. Oohe!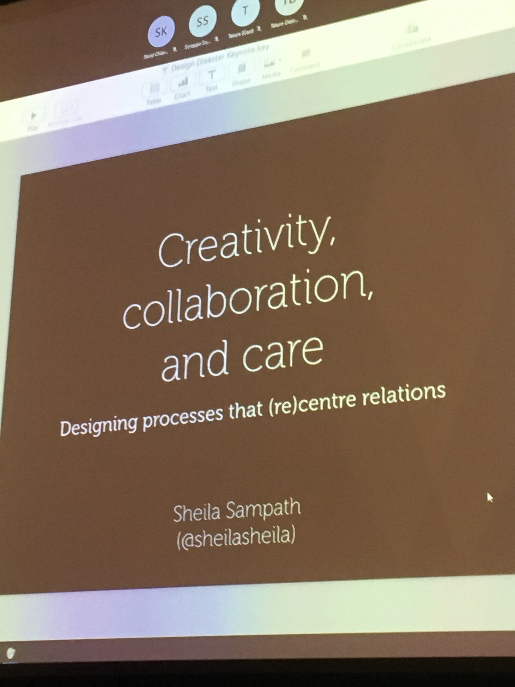 Sheila Sampath
The Public
An activist design studio
'Radical Care' may not be the answer to all our disparities from local to global scales (nor to the inherently colonial practice of thinking in scales in the first place). But 'Radical Care' gave the conference a title open and inviting enough to open up debates and invite new perspectives. Maybe less on the big stage with its oversized screen and frontal setup than in surprising workshops, sunny terrace sit-ins, casual lunch conversations in the grass or by the campfire.
So what is 'care', and why and how (de)radicalize it? There may be as many answers as there were life stories to share around the conference – beautiful ballet of autoethnographic synchronicities – fragile and short-lived like swarms of dancing mayflies – and yet sure to reoccur every springtime in the years to come. Oohe!
A very personal exploration of 'self-care' was politely hidden behind the wall, for those who cared to look behind: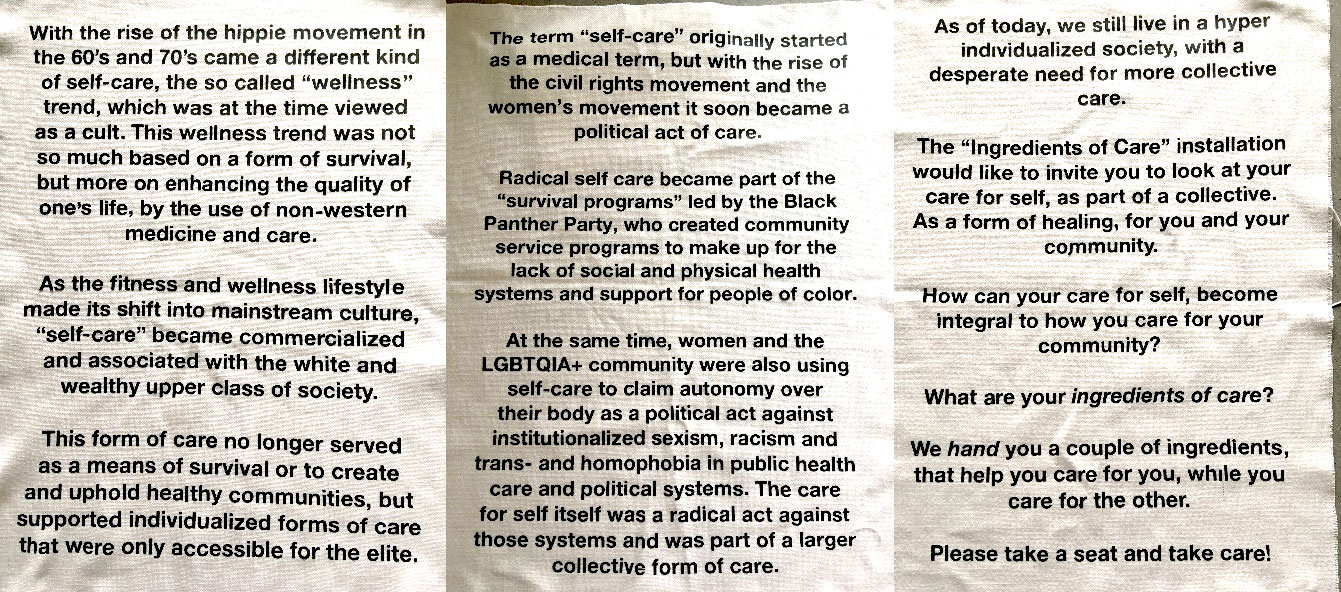 'Care', it appears, is best shared through hushing whispers and hidden gazes, as much as in improvised impromptus and home-printed manifestos passing from hand to hand. Somewhere between the lines of a written conference program, where the new (and yes: the TRULY new) is growing: like trampled-on and disregarded weeds enduring in the cracks and cleavages of societies steamrolling, marching, producing, designing their path-ways towards just the latest trend 'the system' has cared to release upon its followers. Systemic forces? Systemic crackdown? Systemic change? Oohe!
During my scholarship in futures studies, I have had the chance to reflect about the different ways of bringing social change to the world, and about the painful process of hatching the truly new (which is disturbing and unwelcome, queer, provocative and never fitting in). I have also had the chance to research about different types of futurists bringing the change:
"The best listeners, capturers of seeds of change, are those who do not fit the existing social character in its totality."

Eleonora Masini, "Rethinking futures studies", p. 1163
"The most innovative member of a system is very often perceived as a deviant from the social system and is accorded a status of low credibility […]."

Everett Rogers, "Diffusion of innovation", p. 26
In gratitude to all those opening their heads, hearts and hands at 'Design and Disaster' 2022, I'd like to share this illustration, which has given me food for thought ever since I've seen it first. An ever-turning fortune wheel for all you bearers of the new – stay hungry for change, stay daring, stay caring and radical!