17–19 December 2020
"On the most general level, we suggest that caring be viewed as a species activity that includes everything that we do to maintain, continue, and repair our 'world' so that we can live in it as well as possible. That world includes our bodies, our selves, and our environment, all of which we seek to interweave in a complex, life-sustaining web."
Bernice Fisher & Joan C. Tronto
This series of conferences is co-developing with the Master in Eco-Social Design. It is an opportunity for a lively exchange on the creative practices contributing to social-ecological transformations. Both speakers and participants come from diverse fields of practice, ranging from progressive local farmers to internationally acclaimed designers, researchers and activists. The online conference took place during the second lockdown of the Covid19 pandemic, therefore we would like to thank all organizers and contributors to make this conference happen despite the difficult conditions. Nevertheless, the discussions and ideas raised in the conference became a way out to imagine alternative presents and futures within the multiple crises through focusing on care.
The proceedings: Care Beyond Crises
Two years later, we are happy to finally publish the proceedings containing contributions based on keynotes, short inputs and workshops, among others Amy Franceschini (Future Farmers), Niels Hendriks (Dementia lab), Andrea Vetter (Laboratory for new economic ideas), Bianca Elzenbaumer (Brave New Alps), and ‪Seçil Uğur Yavuz, Alvise Mattozzi and Kris Krois (MA Eco-Social Design). You can download the eBook (PDF) here. The printed version will be published at the beginning of 2023.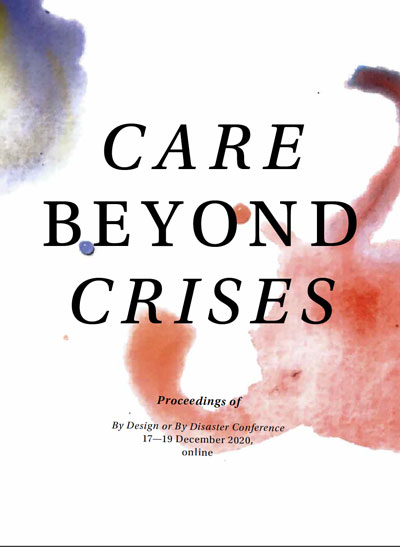 The Focus: Care Beyond Crises
How to use the virus-induced situation to build up momentum for social-ecological transformation?
with Niels Hendriks (Dementia lab), Amy Franceschini (Future Farmers), Bianca Elzenbaumer (Alpine Community Economies Lab / Brave New Alps) Andrea Vetter (Laboratory for new economic ideas), Andreas Unteidig (MA Transformationdesign, HbK Brunswickshig), Elke Krasny (exhibition & book: 'Critical Care – Architecture and Urbanism for a Broken Planet') and many more.
Coping with crises through care. Care as a way leading beyond crises. As both, coping practices and transformation approach…
With this focus, we are preparing our annual conference of the MA Eco-Social Design By Design or by Disaster 2020, actually for the third time. We had to cancel the two conferences in April and in October after having prepared them. We don't give up, but do another online "social un-distancing-experience" building upon our first Beyond Crisis Conference, which took place during the first lockdown in April.
Online conferences can be tiring. Therefore, we want to make it a lively exchange and dance of diverse actors and matters of concern – inspiring inputs, meaningful dialogues and playful collaborations for all senses. We want to build up on your needs and ideas – our participants, speakers, workshoppers and session jammers. Therefore, we open a lightweight and quick call (extended to 7 December) for short 7-minute Talks and Presentations, Collaborative Workshops (1,5-2h) and Sessions for all Senses (free format with music, performance, dialogue, and all kinds of body-mind experiences). The selected submissions will become part of the proceedings.
Registration closed. Thank you for participating!
Questions and suggestions are welcome via email.
Past conferences
2019 – 2018 – 2017 – 2016 – 2015 – 2013
Contact & channels
designdisaster.unibz.it | fb.com/designdisaster
Conference team
Kris >< Krois and the team of students from the Master in Eco-Social Design
Simon Barthmuß, Merve Bektas, Adele Buffa, Andrea Gaidano, Caterina Laruccia, Martina Spinelli
Katharina Kloss, Cornelia Reindl and Seçil Ugur Yavuz
Consultants: Alastair Fuad-Luke, Alvise Mattozzi and Sabina Frei
unibz event management: Massimo Eccli